Best Dive SIte In Bali
1. Tulamben
What this remote coastal village in East Bali lacks in its bleak overland terrain, it makes up for with its splendid underwater beauty, particularly with the USAT Liberty shipwreck as its main attraction. Besides exploring the wreck that is home to colorful corals and variety of tropical fish, you can enjoy the waters around Tulamben that is a combination of muddy volcanic sea beds and natural reef walls. You can also come across occasional sightings of migrating mantas, sunfish, sea turtles and dolphins here. Visibility is fairly clear year round; great for intermediate to advanced levels, as well as casual snorkelling.
Location: Tulamben, Kubu, Karangasem, East Bali
2. Amed
Amed Beach in Bali is most likely already in your Bali travel itinerary if you're a keen diver. The island's eastern shoreline boasts an underwater playground, and Amed Beach is among the favorite between two main sites (the other being Tulamben, 25km to the north). Amed Beach in Bali was once best known for its traditional salt farming. Soon after its beautiful underwater trove was unveiled, with an historical shipwreck adding to its natural features, Amed Beach became a favorite among divers, particularly Jemeluk Bay. Ask for Amed Beach in Bali and you'd be directed to any strip along the coast that spans seven different seaside villages; Amed, Jemeluk, Bunutan, Lipah, Selang, Banyuning and Aas. All are fishing villages, hence the traditional jukung outriggers that line the coast.
Location: Karangasem, East Bali
3. Pemuteran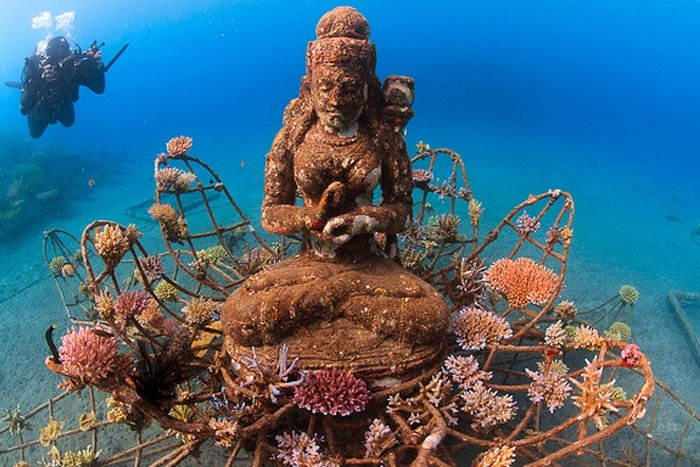 This calm and scenic bay on Bali's north-western coast drew attention of the world's diving community as the largest 'biorock' reef site on the planet, thanks to a passionate project shared by local communities and businesses, which is overseen by the Karang Lestari Foundation. You can dive under the calm waves of Pemuteran with good visibility here throughout the year. Vivid coral reef nurseries that have grown over magnificent purposefully sunken structures, together with expansive underwater gardens are the bay's centerpiece. Corals continue to thrive on existing structures and the whole site continues to expand as structures are added over time.
Location: Dusun Pemuteran, Gerokgak, Buleleng, North Bali
4. Menjangan Island
Menjangan Island is part of the West Bali National Park. You can cross over to this small island by boat from the port of Labuhan Lalang near Pemuteran Beach in North Bali. The island spans approximately 3,800Ha, with savannahs home to the rare Javan rusa deer, locally known as 'menjangan' (Cervus timorensis) and which gave the island its name. Down at the coastline, calm waters and coral gardens teeming with marine life offer diving and snorkeling with excellent visibility year round.
Location: Pemuteran, Gerokgak, Buleleng, North Bali
5. Nusa Penida Island
The largest in the trio of islands that lie southeast of the Bali mainland, Nusa Penida has waters that meet the open Indian Ocean, which happen to be the midyear (August to October) migrating route of pelagic species. Penida is dotted with many dive sites, such as Crystal Bay where experienced divers navigate strong currents in search of the famous oceanic sunfish, otherwise known as 'mola-mola'. Another is Manta Point, where you can spot graceful manta rays. While there aren't many dive resorts on Penida itself, there are many on Lembongan Island nearby, and you can arrange for dive trips with operators departing from the coasts of Sanur and Padang Bai at the mainland.
Location: Nusa Penida Island, Klungkung
Source: www.bali-indonesia.com