5 Best Local Restaurants in Kuta
Kori Restaurant & Bar
Kori Restaurant and Bar is a garden restaurant on the popular backpacking side road of Poppies Lane, which is practically connects Kuta and Legian, and where you can enjoy a large variety of Asian and international cuisine in cool and relaxed settings. The restaurant allows you to escape from the heat and hubbub of 'Downtown Legian' and is a good option if you're up for trying out some authentic Balinese or Indonesian dishes while in the neighbourhood.
Kafe Batan Waru
A great place to head to for local cuisine and hearty snacks in the southern area of Kuta, and with a more refined restaurant setting, Kafe Batan Waru's specials include small plates such as tahu isi or fried stuffed soybean curd, otak-otak fish cakes, and savoury chicken martabak, while heavier choices include nasi campur that consists of tempe, red chili chicken and satay, fried egg and mixed veggies. More of a modern restaurant than a warung, Batan Waru also serves some great cocktails.
Bale Udang Mang Engking
This is the only dining spot in the urban area of Kuta that welcomes you to dine in 'floating' thatch-roofed pavilions set over an artificial lake filled with carp and tilapia. The varied menu is mostly Sundanese style, with prawn among its speciality highlights prepared in a wide variety of ways and with spicy sauces of different hotness levels to suit your taste. Of course, there are meat grills and bite-sized snacks as well.
Made's Warung, Kuta
Open since 1969 with very humble beginnings, Made's Warung started off as a warung in its traditional sense and has rapidly grown into the sociable dining and hangout venue that it is now, increasingly popular among domestic and international visitors to Kuta. Although it has evolved much into a modern restaurant, the menu sticks to its local roots, serving a wide variety of local dishes such as gado-gado, nasi campur, and a variety of meat satays.
Rumah Makan Kedaton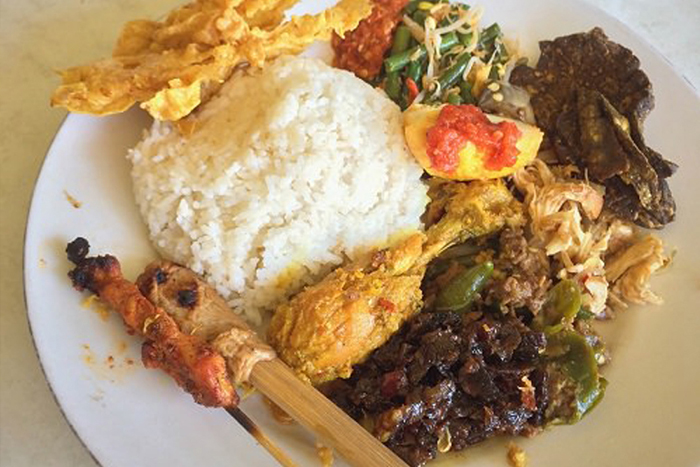 For a good variety of local Balinese, Javanese and Chinese dishes, head to Kedaton, a local restaurant franchise on the main Jalan Raya Kuta road that is popular among office staff and locals around the area, which is most evident during lunch hours.
Source : www.bali-indonesia.com