5 Best Art Markets in Bali
Ubud Art Market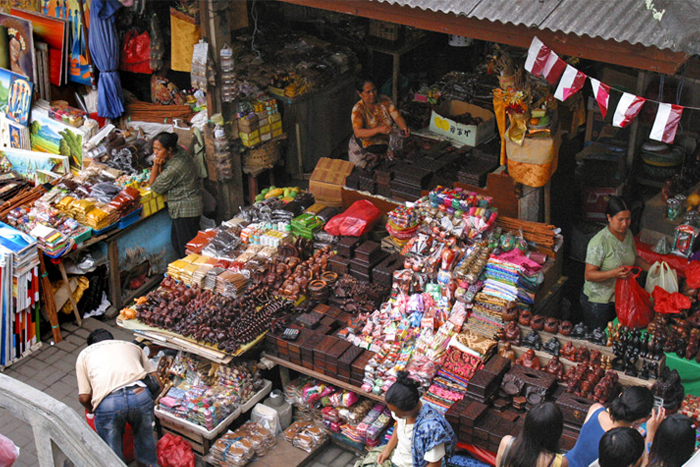 The Ubud Art Market, locally referred to as 'Pasar Seni Ubud' is located opposite the the Puri Saren Royal Ubud Palace and is open daily. Here you can find beautiful silk scarves, lightweight shirts, handmade woven bags, baskets or hats; statues, kites and many other hand-crafted goods. Most of the goods found at the Ubud Market are made in the neighbouring villages of Pengosekan, Tegallalang, Payangan and Peliatan. The location of the Ubud Art Market which is centred among the art producing villages, and being just opposite the royal palace which is a centre point to Ubud itself, make it a strategic shopping place for Balinese handicrafts and souvenirs. The Ubud market also serves as a setting for the Hollywood movie Eat Pray Love, which shows a scene where actress Julia Roberts opposite a male character strolling through the stalls which are frequently visited by foreign and domestic visitors in real life. Naturally, bargaining is essential.
Sukawati Art Market
Sukawati Art Market, referred to locally as 'Pasar Seni Sukawati', is Bali's most distinguished and long-standing art market. It is where visitors can seek and purchase distinctively Balinese art items such as paintings and sculpted wooden figures, curios, handicrafts and traditional handmade products. The two-storey Sukawati Art Market was established in the 80s and is located on the Jalan Raya Sukawati main road in Gianyar, approximately 20km northeast from the main tourism hubs of Kuta and Denpasar. The art market's main building is often packed with shopping holidaymakers and locals sourcing household and daily necessities. It is an alternative, inexpensive and complete shopping destination conveniently situated along most tour itineraries to the central and northern regions of the island.
Guwang Art Market
Guwang Art Market, locally referred to as 'Pasar Seni Guwang', is often considered the sister art market of Sukawati, due to its considerable size and similar offerings, and poses as a great alternative to the usually crowded Sukawati. is the main arts and souvenir shopping destination within the Guwang village community in Gianyar regency, a closer option for those coming from the island's south who wish to do their souvenir shopping stopovers along common tour itineraries to East Bali.
Kumbasari Art Market
Kumbasari Art Market (or Pasar Kumbasari), is Denpasar's longstanding art market that forms the central landmark and the city's main traditional market complex, together with the Badung Traditional Market. The art market is located on the western side of the Badung River, opposite Badung Market, and features two storeys laid out with small art kiosks, textile and electronics shops. The locals also source their daily household necessities and temple ritual items from several shops here, from silk parasols, temple attire, to silver holy water vessels.
Kuta Art Market
Kuta Art Market saw its heyday before the rapid development of this famous Beach resort area, and now is physically outshone by the modern Kuta Square arcade that is lined with international designer brands, surf shops and fashion boutiques. However, it remains an important part of Kuta's history, and still plays a major role as one of Kuta's landmarks and the longstanding traditional art market in the area. Locally referred to as Pasar Seni Kuta, the art market is located right at the junction of Jalan Bakung Sari and Jalan Kartika Plaza.
Source : http://www.bali-indonesia.com/